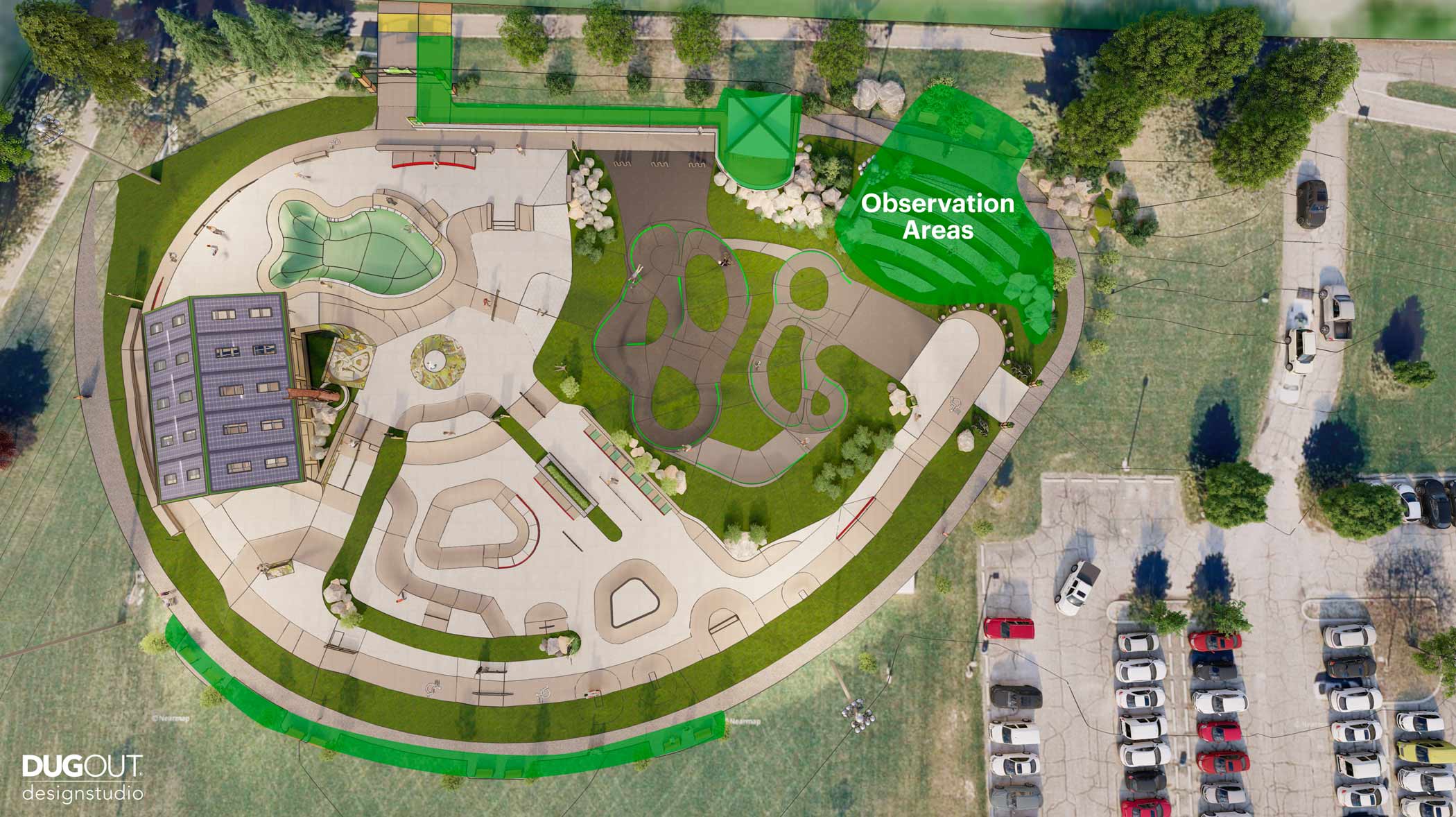 DugOut Design Studio, a 3D visualization and skatepark design company, tailors innovative services to action sports industry
3D modeling, action sports facility design, animations, architectural visualizations, beaverton, conceptualization, design studio, dug ketterman, live design, oregon, photo-realistic renderings, portland, project design, skatepark design
January 20, 2015
Portland, OR – DugOut Design Studio, a skatepark design, 3D visualization and animation company, established by veteran X Games skatepark/bmx course designer Dug Ketterman has opened an office in Portland, Oregon's, Pearl district. The startup focuses on providing design visualization services for marketing groups seeking event course design and creative sponsorship branding geared for the action sports user.
The DugOut process revolutionizes the event organizer's workflow by providing a visual toolset to design, budget, sell, bid-out and promote an event quickly and at an affordable price, said owner Dug Ketterman. Design your venue in real-time, brand a course for sponsorship acquisition, and receive compelling visuals to share your event.
Live Design is a service offered at the DugOut which allows the client to be completely immersed in the entire event-creation process. An individual or team can watch as a vision is brought to life in real-time via shared screen or in-person. Ketterman has rarely seen others use the Live Design process in practice, and based on years of design sessions and feedback, believes it is a game-changer for conceptualizing in a group setting.
There are many benefits to Live Design. By working in a scale 3D environment, clients know immediately if their concepts will work within a proposed space. Marketing teams can design and modify the course, as well as place sponsorship branding within the environment. Event production teams can work out logistical issues such as camera angles, fire lanes, emergency exits and crowd viewing. Models are drawn to scale so accurate estimating packages can be quickly calculated and sent out to bid. All of this can be accomplished from anywhere via shared screen, making it easy for groups of people to plug in from around the globe, or experience it live in person. This process allows for everyone to make decisions together as a team, saving both time and money.
Working with DugOut Design Studio has been an invaluable tool for planning and promoting many events that I have worked on over the years, said Dave Mateus, Global Director of Special Events at Nitro Circus. We use these visuals for everything in the initial stages of planning, designing and announcing the event. We also use the animated renderings to pitch host cities and partners and to give the industry and athletes a first look at the course. DugOut Design Studio offers a quick and affordable way to create renderings that you can use to sell your event to everyone involved, including spectacular content that can be used to market your event. If a picture is worth a thousand words, the animations that DugOut creates are worth a million!
Realistic 3D renderings and animated fly-throughs of the event model are offered to enhance sales presentations and provide captivating content for social media, websites and news releases.
On establishing his company, Ketterman states, "My goals are to streamline the design communication process, evolve the role of design as a pre-production, sales and marketing tool, and create cutting edge visual assets to engage an audience, be it a potential business partner, sponsor, athlete or fan."
For more information on services and to view work, visit www.dugoutdesignstudio.com. Contact dug@dugoutdesignstudio.com
About DugOut Design Studio, L.L.C.
Located in Portland, OR, DugOut Design Studio is a 3D design, visualization and animation company specializing in action sports event courses and creative event branding. The company also designs private indoor sports facilities, interior retail spaces, skate art and action sports equipment. The company was established in 2015 by noted skatepark designer, Dug Ketterman.