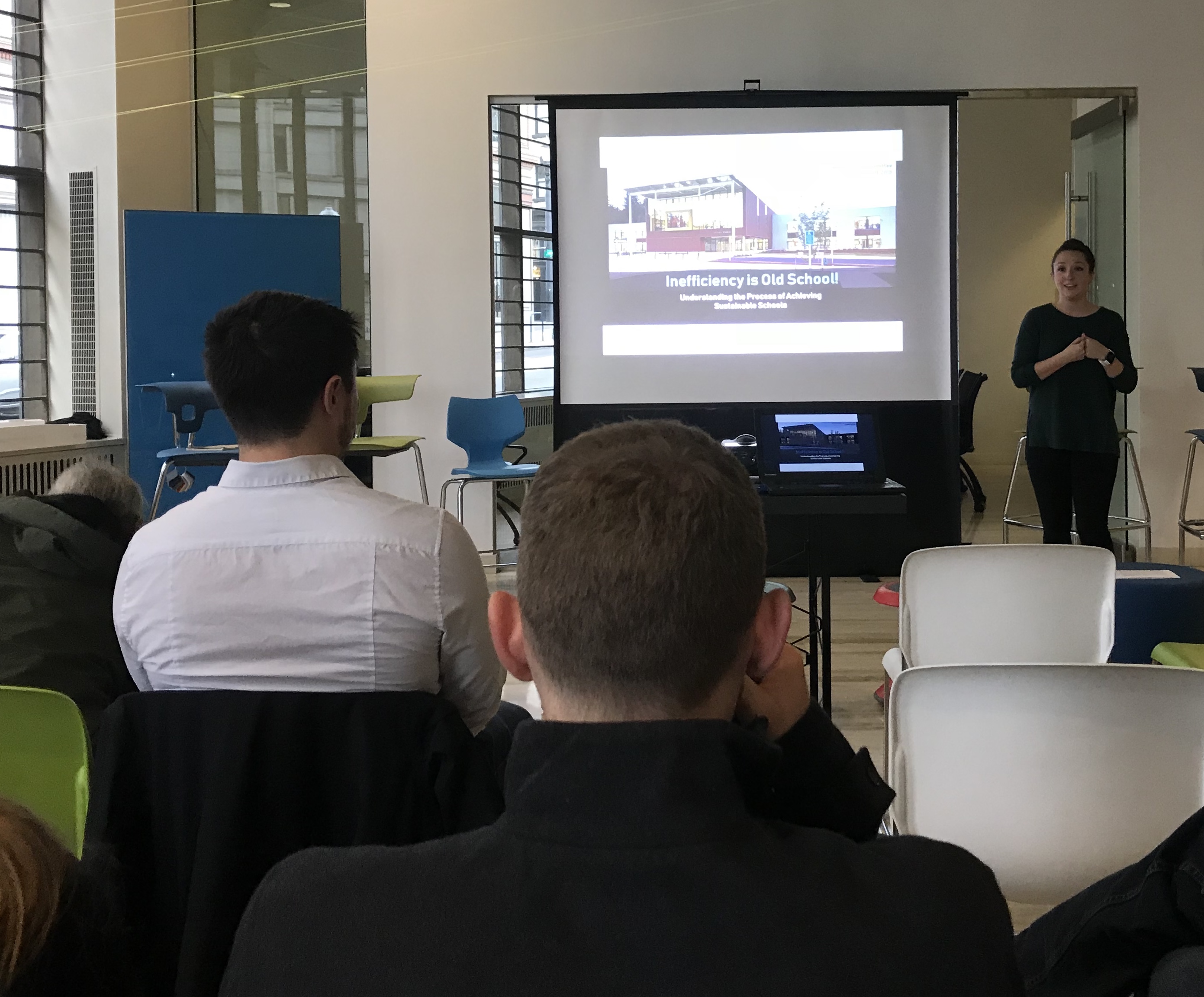 Healthier skateparks: inspired by smart schools
Sustainable Building Week, Portland Oregon
Hosted by Portland Green Schools
Where: DOWA-IBI Architecture Firm – October 2018
Portland has joined 18 other major cities around the world to pledge that all new buildings in their cities will be "net-zero carbon" by 2030.
Net-zero buildings use energy ultra-efficiently and meet any remaining energy needs from renewable sources.
As a part of Sustainable Building Week, I spent the morning listening to chemists, solar specialists, environmentalists and eco-innovators all focused on helping their communities and industries successfully reach the net-zero standards while continuing to provide functional spaces to enhance cognition, retain attention and provide healthier environments for our kids.
As a designer for sustainable indoor action sports facilities it is my responsibility to identify the largest areas of waste and inefficiencies currently standard in the market and replace those with healthier solutions that are safer for the millions of users that call these facilities home. These facilities include wood/steel/concrete skateparks, parkour training facilities, ninja warrior gyms, and trampoline parks. With 33 years experience in designing, building and maintaining action sports facilities, I have realized an industry-wide lack of research into new and less harmful materials that we have been filling these facilities with.
Some common toxin creating goods include formaldehyde from PT and laminated plywoods, high amounts of CO2 emissions from the manufacture of concrete, petroleum based products such as polyurethane and cross-linked polyethylene foams, PVC surfacing as well as various adhesives and finishes, to name a few.
Elliot Gall Phd., an accomplished Chemist from Portland State University, said that the most effective way to improve air quality is to remove the source of the toxins. This is easier said than done as the industry currently uses old materials and processes for manufacturing equipment for these facilities. Often dusty, no or very few windows, no ventilation. Most of the facilities that owners are moving into are not designed or built of high levels of human activity (which produces body heat and moisture from sweat).  I.e. taking over abandoned big-box locations such as best buy or sports authorities need to understand that those buildings were built to handle shoppers, not 100's of sweaty kids.
Due to the amount of time and funding it is going to take for research and testing new materials, I wanted to find out what is currently on the market to help adapt existing facilities. A possible immediate solution an indoor facility can look into is a HRV (heat recovery ventilation) system that pulls in fresh air and pushes out contaminated air without affecting the ambient air temperature. These systems should be incorporated into all existing facilities as well as included in the design of all future spaces.  
It is DugOut Design Studio's mission to create and discover new materials, highly efficient construction process', reduced global impact, and improve the health and well being of our next generation. We are fighting childhood obesity and encouraging active play, so lets turn our focus on creating the cleanest and safest spaces for our youth while doing our part to help preserve natural resources and the environment along the way.