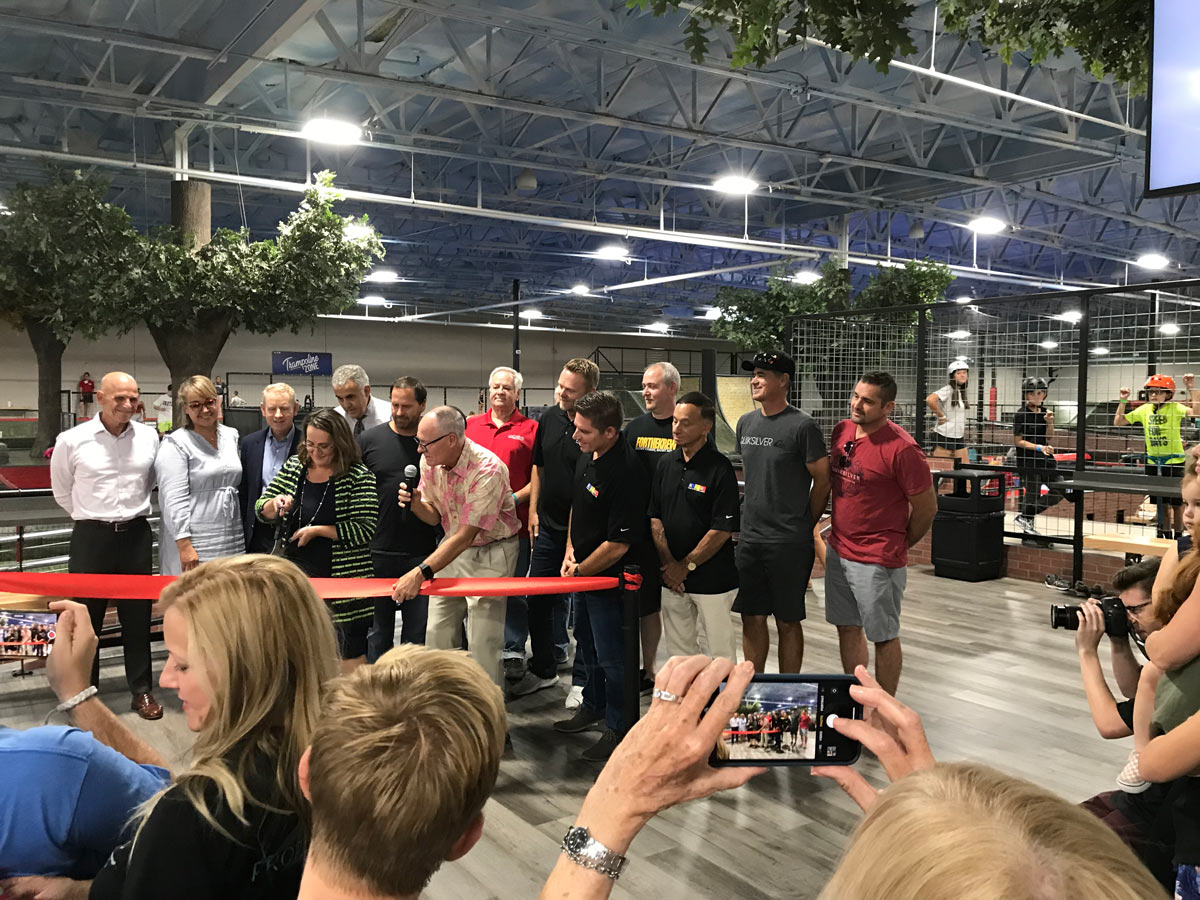 10 Things we love about the KTR Franchise design
3D modeling, airbags, airfloors, design development, franchise design, indoor action sports, indoor playground, indoor skatepark, industrial design, interior design, interior visualization, KTR, parkour, product development, skateparks, trampolines
September 2, 2019
KTR Indoor Action Sports Playground has just opened its third location in Scottsdale, Arizona. After months upon months of computer design, test fits, product development, production oversight, multiple site visits and guidance from KTR Franchise's founder and visionary, Geoff Eaton, DugOut Design Studio, still had one last ultimate test to judge the new KTR Scottsdale design by. The test: take our kids, ages 1 and 4, to experience it as a family. After all, that is who KTR is made for! Read on for photos from the ribbon cutting and our feedback as both the designer and a family experiencing KTR. PDX—>PHX here we go.
10 Things we love about the KTR design
1. Open Floor Plan
No walls. Age and sport specific sections are accomplished via wide walkways, rather than walls and doors, allowing for open viewing.

Painted sky ceiling brings in a bright open feeling of the outdoors
2. Clear Unobstructed Walkways
Easy to get from one section to the next

Areas are clearly defined

Walkways are padded for safety as kids run from place to place

No crowding on the decks and walkways, despite how busy the place was
3. Completely Padded
Finally a safe place for the little ones to run around

All floors and walls are padded

Mom gets to relax in a place like this
4. Area designed for smaller users in mind
The Little Kids area is great because the younger participants have their own version of the big kid stuff in the facility.  

Run, roll, balance, slide, tumble, jump and move your body in as many ways as you can on wide open bouncy squishy floor.

Low falls onto padded surfaces are super fun for the kids

Entry size tramp for the little ones

Fun to explore all the areas
5. Plenty of storage for belongings 
The locker system was easy to use and nice not to have to worry about or worse, cart-around, your valuables while you played. 

Cubby and locker storage conveniently located near front entrance, bathrooms, water fountains and cafe. Meaning, your entry, breaks and exit are easy and efficient.
6. Great viewing areas throughout
Nice to post up in the Cafe to grab a snack and view the kids

The view from the 2nd level suites is quiet and awesome

Seating located throughout the facility so you can watch all zones
7. Modular Padding Systems
We have created a padding system that is capable to adapting to various building layouts.

Pads designed with removable vinyl sleeves for maintenance and replacement
8. Indoor concrete skatepark custom built and shipped on sit
DugOut created a 3D indoor concrete plaza kit, complete with pre-made form walls and eps foam base blocks

Reduced time on install

Although our kids didn't have a chance to cruise around, we've received great feedback on the skatepark
9. Designed by families for families
The KTR company is made up of all families with children from toddler to teen

DugOut is a family owned and run company with its history in skateboarding, making KTR and its indoor skatepark a perfect fit
10. Use of textures, materials and patterns
We were a little concerned about too many patterns, but after visiting, the various use of textures and custom vinyl prints makes KTR visually interesting for kids, and gives a bright and clean feeling.

Urban wall panels and textures added to the edgy aesthetic; huge trees throughout and custom grass prints compliment the sky ceiling to bring the outdoors in

Hardwoods and metals used in cafe and viewing areas speak quality and durability


OVERALL NOTES:
Both of our kids loved it. They wasted no time jumping into the various features and did not want to leave. Our 4 year old liked the trampolines best and our 23 month old, liked the balance beams and geometric shaped pads. Mom was relaxed with all the safety features, staff monitoring and age specific sections, as well as, the conveniently located facilities and amenities. Bottom line, your kids will not want to leave and it's a place they can gradually test and learn all sorts of physical abilities safely and freely. As for the design and final product, everyone is excited with the outcome! With that being said, we are always improving and innovating. Look out for the next one!