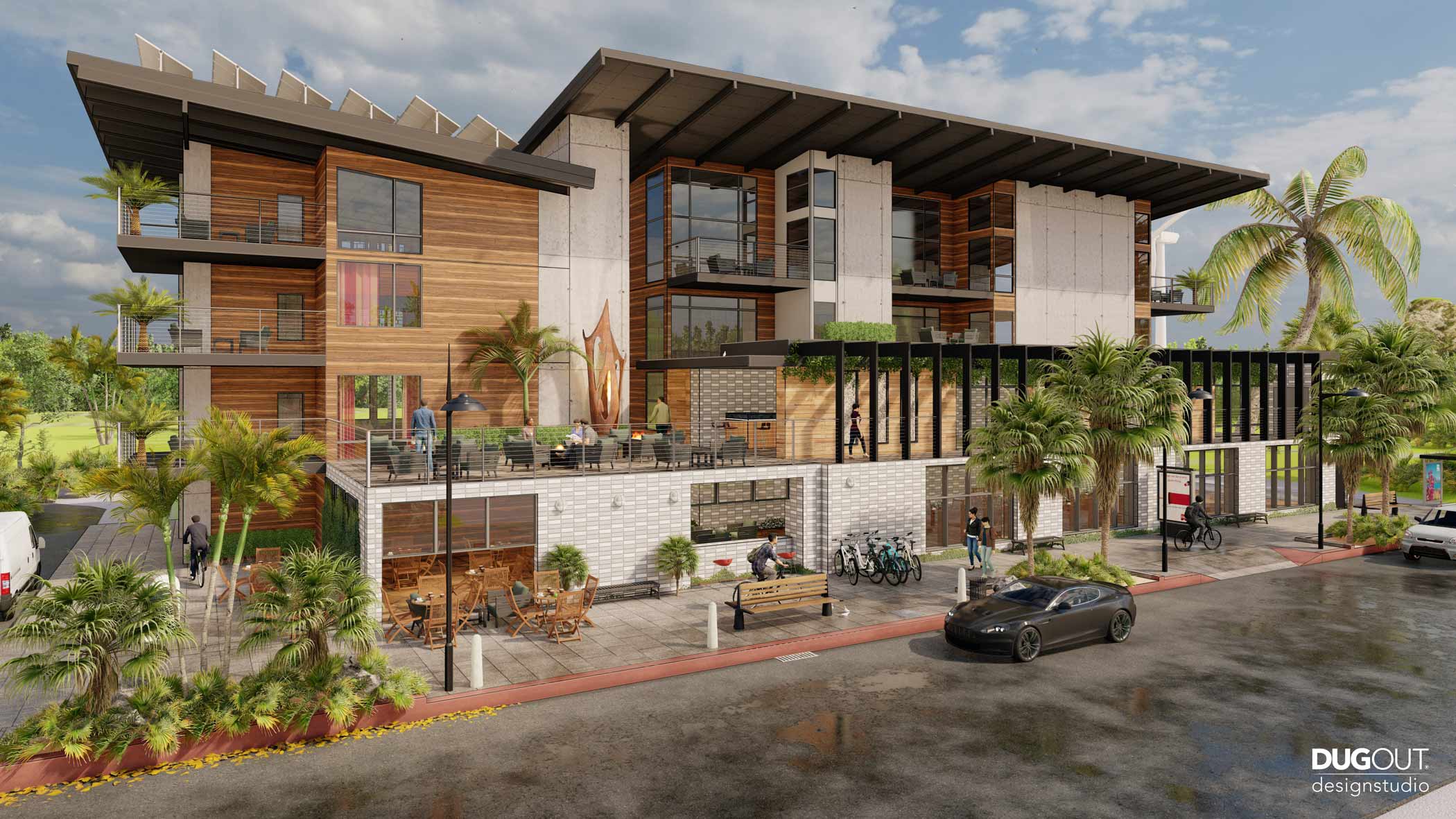 What's In a Rendering?: 5 Ways You'll See Your ROI
So you heard you need a rendering, but what exactly is it and how can you use it? A rendering is a photorealistic, 3D scale modeled image to propose what your project is going to look like. Think of it as a visual representation of your event or business plan (see below for examples). You might be thinking, "Yes! This is just what I need." And then, your thinking quickly changes to… "Dang it!", I don't have that in the budget. We understand it can be a hard service to bite at the beginning of a project if funding is not secured and is coming out of your own pocket. In reality though, it's just the service you need to get the project's funding! Trying to communicate a VISion without a VISual these days is hosting a banquet without food. (Helpful Link: Our Pricing). Read on to see how you'll get back your investment.
Above are 3D Renderings By DugOut Design Studio. Renderings can be used to communicate design intent with stakeholders, architects, contractors, clients, the public and city planning boards. They can also be used to attain sponsors, partners, investors, clients and support fundraising and marketing efforts. In the conceptual phase, our clients benefit from multiple design iterations, thinking through space, programming, branding and art, interior fixtures, budget and common code constraints. 
5 ways you'll see your ROI on a rendering.
Your Ideas Are Spatially Validated and Worked Through


Your first idea is not the final idea. Conceptual drawings are meant to be changed but they are also an important step to see what's possible in a given space. A conceptual rendering can be based off a fictional location or a specific site with existing CAD drawings. In the conceptual phase, a rendering can be used to create just a visual representation or to work through design iterations, thinking through space, programming, branding and art, interior fixtures, budget and common code constraints. In the conceptual phase, the 3D scale model can be questioned and redesigned until problems are worked through. At DugOut we say, "Think It. See It. Keep It. Nix It." Once the conceptual phase is complete, the model can be dimensioned, detailed and packaged for the architect, engineer, contractor and project manager. Once you get to the architects, you don't want to make unnecessary changes because it's timely and costly. In short, working through the iterations and challenges in the concept phase can both validate an idea and save lots of money down the road.

 Your Project Now Has the Momentum it Needs for Backing


Scenario 1: You're in a meeting with potential investors or a city planning board and you're ready with a detailed presentation. It's time for a visual, so you pass around a napkin sketch or show images of similar ideas, neither are really showing what you envision. So you veer off to a wordy detail and say, "Imagine THIS"….perplexed faces stare back and the lights go out, right there.

Enter the rendering: a photorealist, 3D image of your exact thoughts. "Aaah" (happy sighs) "I see it. I want to be a part of THIS!"  The lights have turned on and your project now has momentum; everyone is engaged and wants to hear more! What the rendering shows is that the project is realistically possible, it has been thought out and worked through spatially and visually, instilling confidence in everyone. You save time, energy and get backing faster with a rendering.


You've Met Expectations


Maybe you're presenting to a client to visualize your product in their space or to an event sponsor who's interested in visualizing their brand within the event.  Regardless, professionals expect renderings in the conceptual phase these days. If you don't have a high quality visual, they'll ask for one (because you can be sure your competition will).

The Big Picture is Easily Digested and Improves Internal Communication.


Essentially a rendering is made from a 3D CAD model, but have you ever tried to communicate a schematic blueprint without the help of a designer? Yes, to actually build a project, the detailed model and dimensioned drawings are necessary, but in the conceptual phase, it's nice to have the 3D images that anyone can understand. 3D models and conceptual renderings improve team communication to ensure everyone is on the same page. Even down the road, contractors and project managers on site love having renderings and fly-throughs to refer to. It's the big picture that easily communicates overall design intent and the gift that keeps on giving the whole way through construction. 

You're Ready to Promote with Compelling Content for Website, Social Media and Print

One of the hardest parts of promoting an event or new business before it happens is gathering content. Referring to a similar project that's been done never exactly shows what you're going for and messy construction photos fail to show the whole picture. 3D renderings and fly-through animations are great teasers to share and build excitement by allowing people to see the project's plan overview from every angle before it's built. Once you're building, bring on the construction photos and show side-by-side comparisons of rendering and actual. Everyone is ready to watch it become reality!